Características electricas
Type Silicon Paramete

RSM010P

POLY-crystalline silicon

Maximum Power

Watt

10W

Production Tolerance

+3% /-3%

Maximum Power voltage

V

18

Maximum Power current

A

0.56

Open circuit voltage

V

22

Short circuit current

A

0.70

Size of module (wide and high)

345*285*17mm

Number of cells

(3x12)36pcs

Weight per piece Kg

1.08

Type of junction box

PV junction box

Maximum system voltage

1000V

Temperature coefficient of Isc

+0.05%/°C

Temperature coefficient of Voc

-0.34%/°C

Temperature coefficient of power

-0.5%/°C

Temperature coefficient of Im

+0.05%/°C

Temperature coefficient of Vm

-0.34%/°C

NOCT (Nominal operating cell temperature)

47°C(+2°C)

CONVERSION EFFICIENCY

Cell CONVERSION EFFICIENCY >16.5

Quality guarantee

10years product warranty and 15 years -10% of power and 30 years -20% of power
Caracteristicas
1. High cell efficiency with quality silicon materials for long term output stability
2. Strictly quality control ensure the stability and reliability, totally 23 QC procedures
3. High transmittance low iron tempered glass with enhanced stiffness and impact resistance
4. Both Polycrystalline and Monocrystalline
5. Excellent performance in harsh weather
6. Outstanding electrical performance under high temperature and low irradiance
Pruebas de garantía de calidad
1.Thermal cycling test
2. Thermal shock test
3. Thermal/Freezing and high humidity cycling test
4. Electrical isolation test
5. Hail impact test
6. Mechanical, wind and twist loading test
7. Salt mist test
8. Light and water-exposure test
9. Moist carbon dioxide/sulphur dioxide
Sobre nosotros
Resun Solar fue fundada en 2007, se especializa en proporcionar módulos solares de alta calidad y altamente rentables, con sus 2 fábricas de fabricación acreditadas por ISO9001 y 14001 con una capacidad de producción de 1GW cada año, las gamas completas de paneles Resun están certificadas por TUV IEC61215, IEC61730, VDE, CEC, EMC, LVD, CE y PID aprobados por el laboratorio PI-Berlin y asegurados por American CHUBB Insurance Group.
Resun Solar tiene mucha experiencia en proyectos terrestres de tamaño mediano y grande basados ​​en MW y un pequeño sistema de techo individual basado en KW, y Resun Solar tiene más de 10 años de experiencia como proveedor calificado de sistemas solares domésticos para proyectos solares del Banco Mundial, en nombre de dos marcas propias y siete oficinas y almacenes, el proyecto se distribuye en la mayoría de países de Europa, Australia, Canadá, Sudamérica, África, Oriente Medio y Asia, etc.
Insistiendo en su objetivo de facilitar al cliente y construir una cooperación de beneficio mutuo con la buena relación con diferentes socios de componentes del sistema solar, Resun Solar ha construido una alianza industrial para suministrar soluciones de integración de sistemas de energía solar y productos de aplicaciones solares.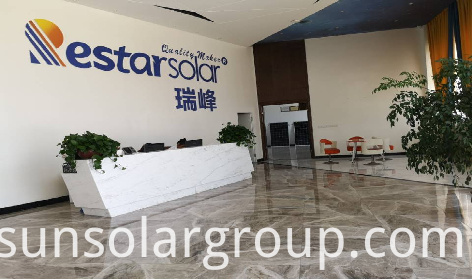 Imágenes de embalaje


Certificados Tuv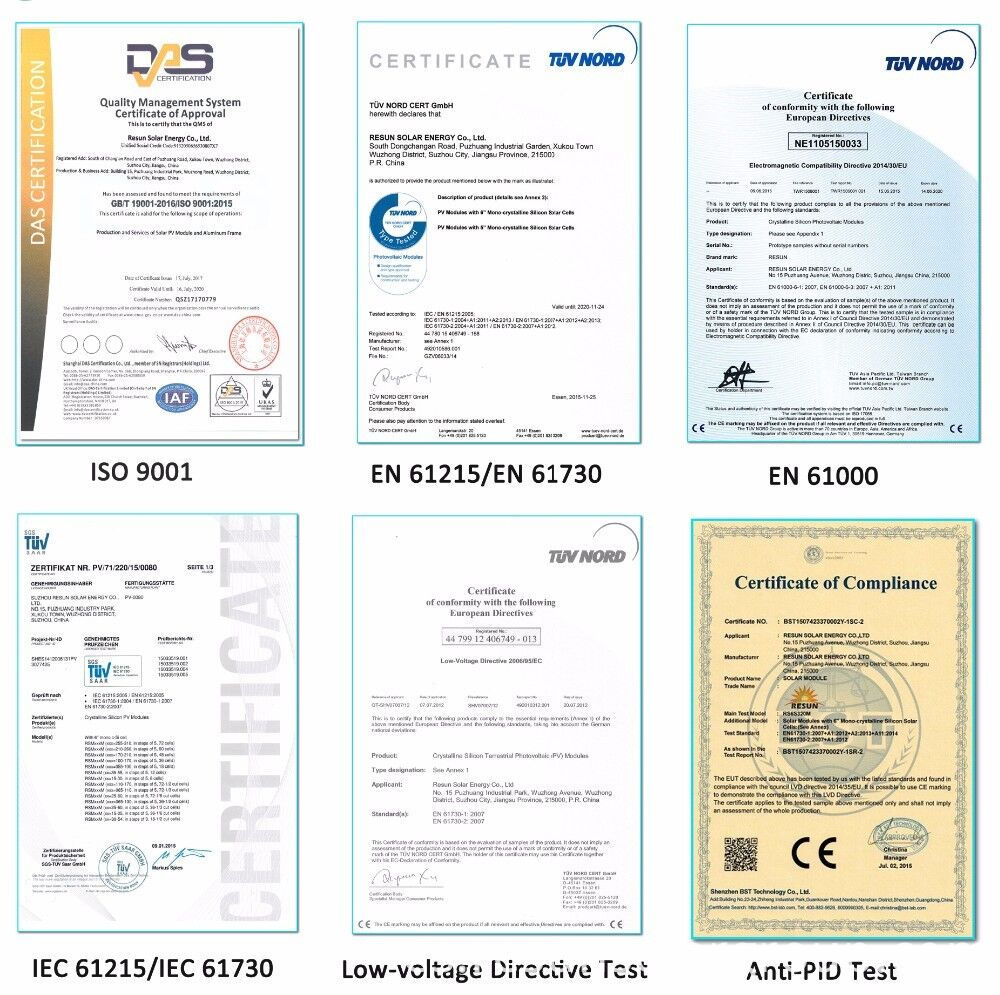 Otra información
PAYMENT TERMS
T/T, L/C and Skrill(Moneybookers) are the payment methods we allow at this time.
SHIPPING
Material in stock can be produce (procedure 5-20days) right away after pre-payment confirmation. COSCO Mearsk MSC ship to worldwide for safe shipping, don't worry about package damager or loss. It takes about 15-40 days to worldwide, Please note us your contact details include your phone number for easy contacting from shipping company officer.
IMPORTANT INFORMATION
1. All our solar panels following IEC6125, IEC61730 standard, Have CE, TUV Certifications.
2. The solar cell efficiency is 16%-18.5%. All material certificates by TUV IEC test, meet the solar panel 25 years at outdoor performance
Gracias por su atención a nuestra empresa y nuestros productos y esperamos hacer negocios con usted con éxito.